BrightMind Consulting Group was recently honored with a prestigious accolade, landing a coveted spot in Inc.'s Power Partner Awards!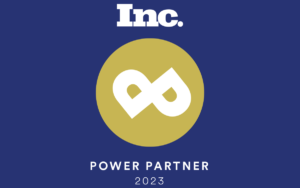 This recognition isn't just a feather in our cap; it's a roaring testament to the transformative strategies and leadership coaching we've been delivering to businesses far and wide.
From revitalizing client acquisition strategies for a Houston-based electrician and generator firm to skyrocketing operational efficiency for a digital marketing agency in Spain, our tailored solutions have been the driving force behind many success stories.
It's not just about tackling challenges; it's about turning them into stepping stones for exponential growth.
Here's the crux: we're not in the business of one-size-fits-all solutions. We're about crafting strategies and tactics that fit like a glove, making your business objectives a reality.
And now, we're inviting you to be part of this exciting journey toward unbounded success.
Here's a snapshot of how BrightMind Consulting Group can pivot your business to a trajectory of exponential growth:
Customized Business Strategies: Tailoring growth blueprints to align seamlessly with your business goals and market dynamics.
Leadership Coaching: Empowering your leadership team with the insights and skills needed to steer your organization toward enduring success.
Operational Efficiency Tuning: Streamlining processes to enhance productivity, reduce costs, and significantly impact your bottom line.
Client Acquisition and Retention Optimization: Refining your client engagement strategies to attract and build lasting relationships with your clientele.
Technology Integration: Merging the latest tech solutions with your business operations to foster a culture of innovation and efficiency.
Market Positioning: Crafting a robust market presence that resonates with your target audience and sets you apart in the competitive landscape.
Customized Presentations: We inspire action and ignite change through insightful and entertaining presentations.
Engage with us, and you're not just getting a consultancy; you're gaining a partner utterly devoted to seeing you soar past your goals.
Feel the allure of success knocking at your door?
Reach out to us, and let's start sketching your roadmap to monumental growth.
Our team at BrightMind Consulting Group is more than ready to dive into the heart of your business, unearth its potential, and catapult it into the realm of success you've envisioned.
We're not just making waves in the industry; we're creating tsunamis of success. And we're inviting you to ride the wave with us!
Ready to elevate your business?
Email us at info@brightmindconsultinggroup.com or call us at 713.844.8526, and let's start the conversation that could redefine what success looks like for you.